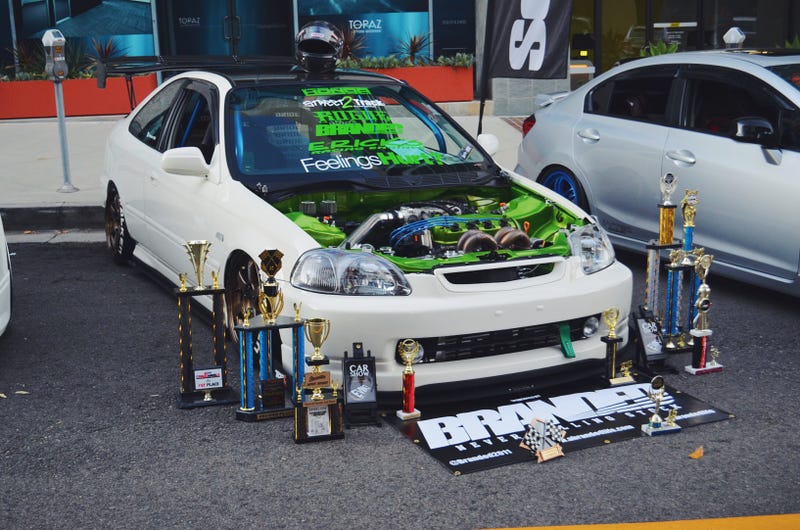 I normally wouldn't find myself at Hot Import Nights, but I happen to live one block away from this show so I decided to see what it was all about... why not, right? First off, an explanation of what "HIN" is these days: a mixture of current, relevant modified import show cars with the stuff of yesteryear (think the original The Fast and The Furious) that really has nowhere else to still get shown in public. The cars, however, take a back seat these days to the real focus of the event, which seems to be the ubiquitous and numerous import models populating the show. I have never seen so many import models in one place, so if that's your thing, Hot Import Nights is for you. Apparently HIN got started in this location in 1998, so this "nightclub themed supershow" (their words) was something of a tribute to the original. Its relevance to the car scene has waned since then, but then again the thousands of people flooding the San Pedro streets for this event may disagree with that! On to the pictures...
---
Sterling Sackey is Founder & Owner at SW2 Tuning, your premier source for performance tuning parts. He owns a 2009 Honda S2000 and a 2015 VW GTI (w/ Performance Pack!), lovingly dubbed SW2 N1 and SW2 N2, respectively. He resides in Long Beach, CA, and lives, eats, and breathes cars and performance car tuning.
The club music and DJ's were audible from my apartment one block away, and this was the scene walking up:
A nice R32 GT-R I've seen at other events in SoCal (see my Donuts 'N Wheels coverage):
Here's the inside of a first-gen Scion xB with decidedly upmarket modifications:
"Wide load":
A nicely modified NSX with extremely flawless paint. The thousands of people walking through and leaning / literally sitting on the show cars had me a little uneasy for cars like this:
You be the judge:
This represents about 1% of the total import model population at the event:
Rare JDM S15 Silvia hard-top convertible:
Civics will always have a place in the import scene:
Some more recent and/or classy stuff was mixed in:
However, things soon took a dark turn:
Note the fastidiously placed sequins surrounding the car, as well as the mirrors allowing one to see the wheels without looking at them directly (could cause blindness). It's important to set oneself apart for the judges:
This was in a class of its own:
Gold fever:
Whoever parked this among the HIN masses is a brave man:
A return to the Scion xB noted earlier. It was owned by a middle-aged and slightly portly man (seen exiting the passenger door):
E90 M3, nice:
A couple of well-executed "VIP"-style Lexus. I don't mind this Yakuza-derived look as long as it's applied to cars that fit the role:
Track-ready E92 M3:
Now that's a clean undercarriage...
Well, that's all folks. Stay tuned for more of my weekend event coverage tomorrow!